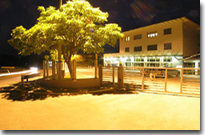 "Elektrometal" Company Cazin, with its seat in Cazin, Lojićka bb, is totally private company formed as association with limited responsibility and registered in 1988 at competent court in Bosnia and Herzegovina.
From the very beginning "Elektrometal" company has focused on conducting construction works of building construction and civil engineering, construction-handicraft and finishing works in construction as well as electric fitting and electric works at industrial and residential objects. In past two years the company successfully produces electric switchboard closets for industrial and residential objects as well as services.
"Elektrometal" company Cazin with its 115 permanent employees and necessary number of season workers is capable to conduct all kinds of construction and construction-handicraft works starting with small up to large and complex objects. There is also a possibility of making projects to building object upon system "key in the hand".
For building such objects the company has its own equipment and means.
Enclosed are all relevant data about the company and equipment that company possesses as well as the list of significant objects that "Elektrometal" company had worked on in area of Una-Sana Canton, Federation of BiH, Republic of Srpska and Kosovo.
Additional information about "Elektrometal" company Cazin can be obtained at domestic investors as well as humanitarian organizations operating in Una-Sana Canton for which "Elektrometal" company has conducted works:
PTT SAOBRAĆAJA BiH, ELEKTROPRIVREDA BiH, SFOR, ACT - KOSOVO
NRC, THW, SIDA - LWF, SOLIDARITES, CARE, MERCY CORPS, SKH, IOM, EU, WORLD BANK, CUSTOMS ADMINISTRATION OF THE FEDERATION OF BIH.
We are hoping that with this short information we represented "Elektrometal" company as Your potential partner - constructor.
With respect,
"ELEKTROMETAL"
Enclosed: Information about the company